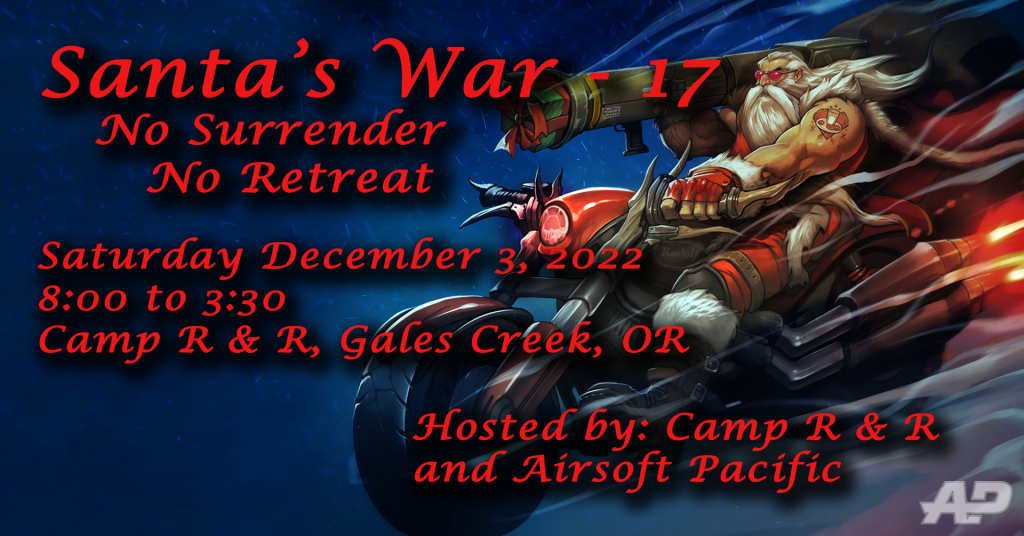 After a fierce battle last Christmas, Santa's Elite 506th Parachute Elf Regiment barely managed to fight back the Grinch and his Evil Grinchen Soldiers. Tired and worn out, Santa and his Elves need to hold off the Grinchen Army for just a bit longer to insure a successful Christmas in 2022.
So are you going to be part of Santa's Elite 506th crushing the Grinch's Army and make sure Christmas 2022 happens? Or, maybe you are more of a grinch, and sign on with the Grinch's Army sworn to do everything in their power to crush the Spirit of Christmas.
Santa's War 17 – No Surrender, No Retreat
Hosted by Camp R&R and Airsoft Pacific
This will year 17 of Santa's War, a annual Non-Profit Airsoft Toy Drive. All toys, raffle proceeds and donation's will go to Ciacc Toy N Joy: https://www.facebook.com/ciacc.toynjoy
Santa's War Airsoft Event are family friendly and we allow players as young 12 as long as they have a parent or guardian on the field with them. We encourage you to come out with you friends and family, it really is a fun time. Never played airsoft, no problem, we will have K&M Airsoft Rentals on site with complete rental packages available.
When: Saturday December 3rd.
Where: Camp R & R
Directions to Camp R & R: https://g.page/CampRandR?share
Field Map: documents/maps/Camp-R_R_Generic_V6.pdf
Age: 12+
Cost: One … or MORE Unwrapped Toy, Donations will go to Ciacc Toy N Joy https://www.facebook.com/ciacc.toynjoy
Safety Rules & FPS Limits: http://www.camprandr.com/airsoft-at-cam … soft-rules
Waivers: Camp R&R Waiver – Will be available on site.
Waivers: Airsoft Pacific Waiver - documents/AP_WAIVER.pdf
Eye Pro: Must meet ANSI Z87.1 standards and wrap around the face. Eye protection must be worn at all times on the field.
Face Pro: Face protection is not required, but highly recommended.
Schedule:
December 3 – Saturday
0800 – Field Opens – Turn in waivers and have your ammo checked at registration. This is a Bio Only Field.
0830 – Registration / Chrono Opens
0930 – Registration / Chrono Closes
0930 – Toys, Raffle & Pictures
1000 – Safety Briefing
1015 – Game Starts / This is a fun friendly light hearted game – walk off the field to eat or get something warm to drink anytime.
1530 – Game Ends
Who are you fighting for?
Santa's Elite 506th – Red Arm Band.
The Grinchen Army – Yellow Arm Band.
We encourage you to dress the part of an Elf or Grinch Soldier, what that looks like is up to you. Elves should be highlighted in red and Grinch Soldiers in yellow. Have a cool costume, but the colors are not quite right, that's ok, we will be using arm bands if needed. We also have a dedicated Grinch and Santa for this event that will help lead the troops and provide some comic relief.
Food & Treats: We do plan on having some food & treats available
Raffle: Everyone gets 1 ticket with your entrance Toy's. Additional raffle tickets can be purchased for $1 (CASH ONLY for Raffle)
Additional raffle details will be announced as we line up sponsors. All Toys collected and proceeds from the raffle sale go to Ciacc Toy N Joy https://www.facebook.com/ciacc.toynjoy
K&M Airsoft Rentals:
K&M will be on site with their rental guns. If you have any friends that want to try out airsoft here is an opportunity for them to see if they enjoy the game.
$25.00 to $30.00 per gun for the day, includes mask, BB's, and a hicap mag.
http://kmarentals.us
Airsoft Essentials:
Airsoft Essentials Field Store will be open in case you need ammo or other supplies
https://www.facebook.com/AirSoft-Essent … 8116502702
Interested in being an event sponsor for Santa's War 17? Here a few ways to get hold of us.
- Reply to this post
- Facebook message: https://www.facebook.com/airsoftpacific
- Send me a email: dennis.pollmann@airsoftpacific.com
If you have any questions, please post them below or send us an email at info@airsoftpacific.com
We hope to see you there!