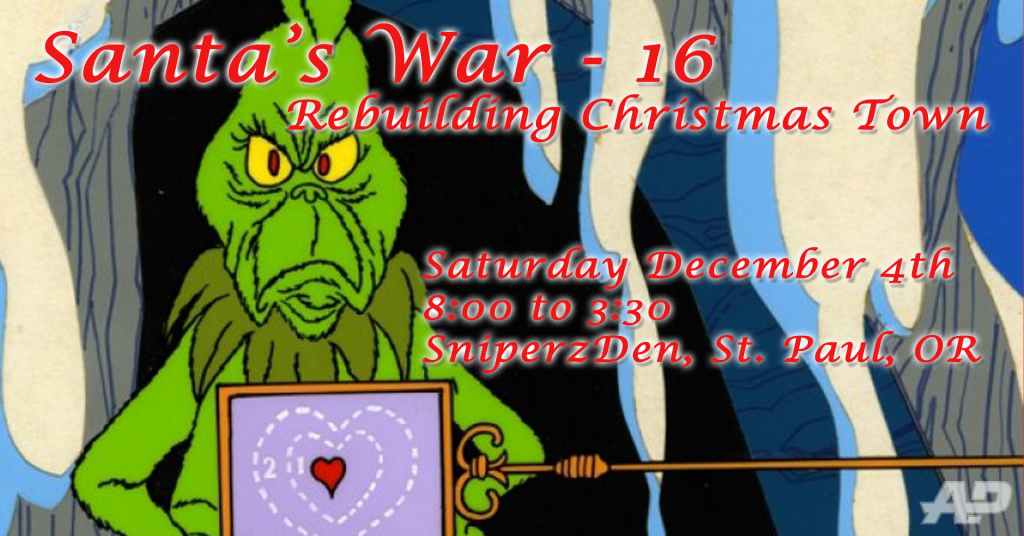 Last year Santa and is Elite 506th Elf Regiment took back Christmas Town after a 11-month illegal occupation by the Grinch and his Evil Grinchen Soldiers. 
During his occupation The Grinch did very little to repair the damage his Army had caused to Christmas Town and over the past year Santa and all his Elf's have been busy restoring infrastructure and most importantly getting the Toy Factory up and running.
There is a few critical items still needed to fully restore the toy factory. Santa's Elite 506th must figure out how to recover the items and at the same time protect Christmas Town from being overran again by The Evil Grinchen Army. 

Are you going to be part of Santa's Elite 506th and restore Christmas Town and make sure Christmas 2021 happens, or are you more Grinchy and prefer do everything in your power to crush the Spirit of Christmas?
All the Santa's War Airsoft Event are family friendly and we allow players as young 12 as long as they have a parent or guardian on the field with them. We encourage you to come out with you friends and family, it really is a fun event. Never played airsoft, no problem, we will have K&M Airsoft Rentals on site with complete rental packages available.
This is a 100% Non-Profit event with all Toys, Raffle Proceeds and other Donations going to CIACC Toys N Joy: https://www.facebook.com/ciacc.toynjoy
We encourage you to dress the part of an Elf or Grinch Soldier, what that looks like is up to you. Elfs should be highlighted in red and Grinch Soldiers in yellow. Have a cool costume, but the colors are not quite right, that's ok, we will be using arm bands if needed. We also have a dedicated Grinch and Santa for this event that will help lead the troops and provide some comic relief.

Santa's War 16 – Rebuilding Christmas Town
When: Saturday December 4th.
Where: SniperzDen, St. Paul OR – Google Maps: https://goo.gl/maps/FGFScVn581evZ8zb7
Field Map: documents/maps/SniperzDen_Generic_V6.pdf
Age: 12+
Cost:One … or MORE Unwrapped Toy, Donations will go to CIACC Toys N Joy https://www.facebook.com/ciacc.toynjoy
Rules:AP Standard Safety Rules & FPS Limits Apply – Details will be covered during the briefing. Face and Eye pro are Mandatory.
Waivers:Will be posted soon
Waivers:Will be posted soon
Eye Pro: Must meet ANSI Z87.1 standards and wrap around the face. Eye protection must be worn at all times on the field.
Face Pro: Face protection IS MANDITORY at this field.
Schedule:
December 4th Saturday
0800 – Field Opens – Turn in waivers and have your ammo checked at Registration. This is a Bio Only Field.
0830 – Registration / Chrono Opens
0930 – Registration / Chrono Closes
0930 – Toys, Raffle & Pictures
1000 – Safety Briefing
1015 – Game Starts / This is a fun friendly light hearted game – walk off the field to eat or get something warm to drink anytime.
1530 – Game Ends
Who are you fighting for 

 ______________________ 
Santa's Elite 506th – Red Arm Band and Santa/Elf style hat – mostly red
The Grinch's Grinchtruppen Army – Yellow Arm Band and fun hat – mostly yellow
SniperzDen is a BIO AMMO ONLY FIELD
Food & Treats We do plan on having some food & treats available
Raffle Everyone gets 1 ticket with your entrance fee for the general raffle.
Additional raffle details will be announced as we line up sponsors. All Toys collected and proceeds from the raffle sale go to Ciacc Toy N Joy https://www.facebook.com/ciacc.toynjoy
K&M Airsoft Rentals
K&M will be out with their rental guns, If you have any friends that want to try out airsoft here is an opportunity for them to try out some different guns and see how well they enjoy the game.
$25.00 to $30.00 per gun for the day, includes mask, BB's, and a hicap mag.
http://kmarentals.us
Airsoft Essentials
Airsoft Essentials Field Store will be open incase you need ammo or other supplies
https://www.facebook.com/AirSoft-Essentials-241988116502702
Sponsors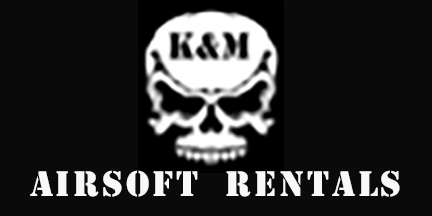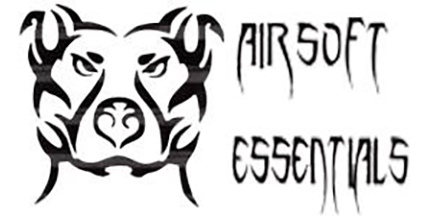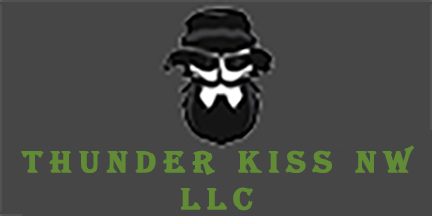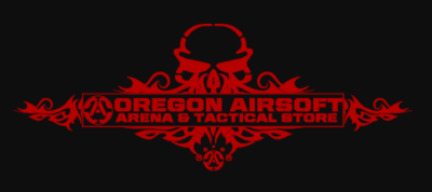 Field & Event Sponsor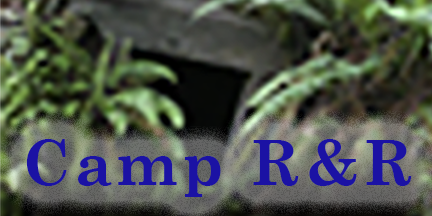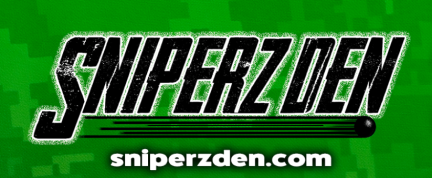 Interested in being an event sponsor for Santa's War 16?
Reply to this post
Facebook message: https://www.facebook.com/airsoftpacific
Send me a email: dennis.pollmann@airsoftpacific.com
If you have any questions, please post them below or send us an email at info@airsoftpacific.com
We hope to see you there!
Thank you,
Dennis "Crossbow"